OP. DR. SİBEL ATALAY INTERNATIONAL CLINIC
Blepharoplasty
Blepharoplasty
What is the upper eyelid esthetics?
Upper eye lid esthetics is the correction of sagging in eyelid and dropping in eyelid found in the eyelid. If there is herniation also in the fat pads around the eye, this can be treated during this procedure.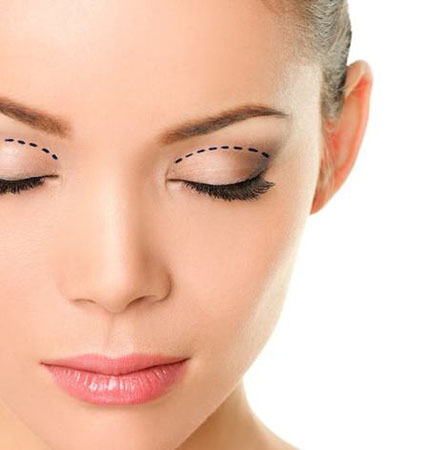 What are the causes of the upper eyelid dropping?
Resilience and dropping in the upper eyelid may occur due to aging, in relation genetic structure, due to collagen loss in the skin and with influence of the gravity.
By which technic the upper eyelid esthetics is performed?
Excesses of skin and that of muscles are removed and fat herniation are eliminated if any by means of an incision made from the line coinciding with the folding area of the upper eyelid. Since the procedure is performed on the eyelid folding line, surgery trace is almost not prominent.
In the upper eyelid esthetic applications, what should be cared first?
If you are using anticoagulant (blood-thinning) drugs, you should cease to use them seven to ten days before by consulting to your doctor.
Some drugs and some vitamins have anticoagulant (blood-thinning) effects and bleedings may be increased during the recovery period. It is extremely important to inform your physician about the medications that you use, the nutritional supplements, slimming teas.
If you have any allergy toward any substance or medications, please definitely inform your physician.
We suggest the patients consuming tobacco products to cease smoking at least three weeks before the surgery.
No alcohol should be consumed for one week before the surgery.
The patient should be hungry at least three hours before the surgery.
While coming to the surgery do not make up, do not pin jewelry.
Is the patient narcotized in the upper eyelid surgery?
No, the patient is not narcotized. Local anesthesia is ensured by numbing the area in which the procedure will be performed via small needles. If other surgical procedures such as face lift surgery, breast surgery etc. are planned in the same session, general anesthesia can be planned.
The removal of the excess of the upper eyelid lasts approximately thirty minutes. If there are fat pads in the patient the surgery may last totally one hour.
Swelling and bruises may take place in the eyelid after the upper eyelid surgeries. The healing of these swellings and bruises may last one to two weeks.
Following the upper eyelid esthetic applications, people may return to the professional and social life in five to seven days.
Following the upper eyelid esthetic applications, how much trace may persist?
Following the upper eyelid esthetic applications, some traces which cannot be seen at first glance persist at the fold line of the eyelid. While these traces are red and apparent previously, they take the color of the skin with time and their prominences is reduced.